Women in Finance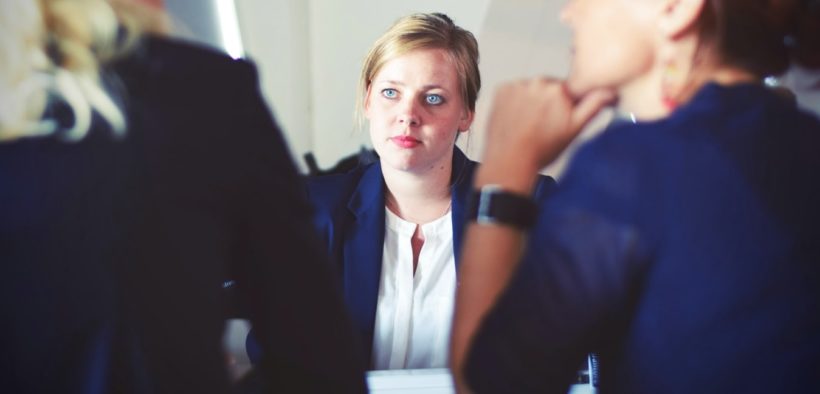 Even though women legally and technically have the same rights as their male counterparts, that is just not prevalent in today's working force. The field of finance is particularly overridden with "suits" and this is made apparent in many ways. Through Hollywood depictions in the financial field, including movies like The Wolf of Wall Street that sodomizes women in the field of finance and renders them useless. "Men and women are equal" is a statement that we get drilled into our heads but it is a fact that women who work the same hours, work the same job, have the same qualifications make on average 77% of the salary that their male counterpart would earn. Not only that but women, especially in the field of finance, are finding it more and more difficult for them to advance into higher management positions; the gender bias is apparent in the financial sector. This piece profiles four strong women who have managed to overcome the stigma that faces them and have found themselves in roles of power in the field of finance.
#1) LYNN JEANNOIT

Executive vice-president, human resources and corporate affairs, National Bank of Canada
Lynn began working at the National Bank of Canada in 2002. She is particularly known for her amazing management skills and her ability to lead. At NBC, she is in charge of the development of HR strategies for all of the branches and is in charge of the legal department. She has been working for over 30 years in the development of the financial services sector and the development of management strategies in finance. Outside of work, she is in charge of several committees in the greater Montreal area that lead financing campaigns to better the city. She has been on the Women in Power: Canada's Most Powerful Women list for the past 4 years. She has also been inducted into the Women's Executive Network Hall of Fame. She is also essential in the fundraising of a range of organizations, such as the Fondation surdité et communication of the Institut Raymond-Dewar.

#2) CHRISTINA LAGARDE
Managing Director of the International Monetary Fund (IMF)
Christina has a long and powerful history in finance. Originally a lawyer, she became the first female partner at Baker & McKenzie, a renowned international law firm. After she decided to branch into politics where she excelled in the field of finance. She was first female finance minister of the G8. In France, she held other roles in their government including Minister of Economic Affairs and Minister of Finance and Employment. She was ranked the 5th most powerful woman in the world by Forbes Magazine. Before she was one of the most powerful women, she represented France in the Olympics as a synchronized swimmer. She is a highly influential member in the world of finance and even though she is rated behind names like Melinda Gates and Michelle Obama, she has become successful all on her own and broken barriers without using her husband's name to get ahead in the world.
#3)MARY CALLAHAN ERDOES

CEO, JPMorgan Asset Management
Mary is in charge of running one of the most profitable businesses at North America's largest banking company. She is in charge of over $2 trillion dollars in various assets and allocations as the head of the company's asset management division. She constantly makes the top of successful money managers lists and she has brought in substantial amounts of profit for JP Morgan. She has worked at JP Morgan for 17 years either in asset management or privatized banking and she is one of the few women that hold high caliber positions at the company. She was listed as the #1 most powerful woman in finance by American Banker.
#4)ABIGAIL JOHNSON
President, Fidelity Financial Services
Abigail was made president of all of Fidelity's core businesses and after she was promoted to that position it became obvious that she would also take over as CEO and chairman of Fidelity. Johnson has created a new focus and leads with a versatile hand. She focuses on assets such as brokerage and she has moved the firm into supporting small businesses and mid size clients with financial obligations such as 401Ks and other various investment plans. She is solely in charge of almost 4 trillion dollars in assets and she has worked with Fidelity since the beginning; since 1988. She wants to create a user friendly interface that involves clients.
---
Writer: Pooja Paturi
Disclaimer: All investing can potentially be risky. Investing or borrowing can lead into financial losses. All content on Bay Street Blog are solely for educational purposes. All other information are obtained from credible and authoritative references. Bay Street Blog is not responsible for any financial losses from the information provided. When investing or borrowing, always consult with an industry professional.